Danmarks statsminister Anders Fogh Rasmussen meddelte hans kandidatur i går morges for at blive NATOs næste generalsekretær. Vi har kendt om denne mulighed for mange uger men i går er hans plan blevet officelt.
Yesterday morning the prime minister of Denmark, Anders Fogh Rasmussen, confirmed his candidacy for the post of Nato secretary general. We have known about this possibility for many weeks, but yesterday his plan became official.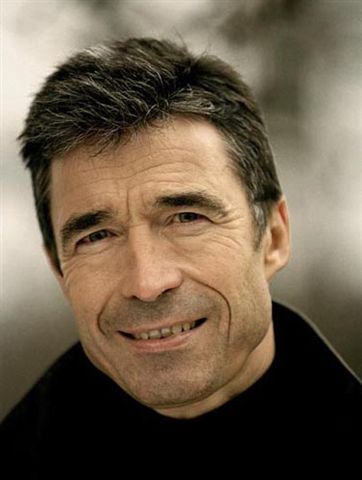 Alle 28 NATO lande samles i Tyskland i går for middag og afstemningen. NATOs regl er at alle 28 medlemslande skal stemme enstemmigt og sædvanligvis er dette simpel fordi alle er enig med det bedste valg for NATO og verden men kontroversi er stiget omkring Rasmussens kandidatur.
All 28 NATO countries gathered yesterday in Germany for dinner and the vote. NATO´s rule is that all 28 member nations must have a unanimous vote and usually this is simple because everyone is in agreement about what is the best choice for NATO and the world, but controversy has risen surrounding Rasmussen´s candidacy.
Den 28 NATO lande er: / The 28 NATO countries are:

Albania, Belgium, Bulgaria, Canada, Croatia, Czech, Republic Denmark, Estonia, France, Germany, Greece, Hungary, Iceland, Italy, Latvia, Lithuania, Luxembourg, Netherlands, Norway, Poland Portugal, Romania, Slovakia, Slovenia, Spain, Turkey, United Kingdom, & United States
Kontroversien om Rasmussens kanditur er kommet fra Tyrkiet og landets præmiereminister så han har sagt at han vil ikke støtte Rasmussen som den nye NATO general sekretær. Og faktisk har han fortalt Obama at "USA heller ikke skulle støtte Rasmussen." (Men ingen pres, Obama...)
The controversy about Rasmussen´s candidacy has come from Turkey and the country´s prime minister as he has said that he will not support Rasmussen as the new NATO secretary general and in fact, he has told Obama that "the US should not support Rasmussen either." (But no pressure, Obama...)

Men hvorfor? Er det fordi Rasmussen har ingen erfaring? Nej.
Eller fordi Rasmussen har været en dårlig medlem af NATO? Nej.
Eller fordi Tyrkiet har anden kandidat at de tror er bedre? Nej.
But why? Is it because Rasmussen has no experience? No.
Or because Rasmussen has been a bad member of NATO? No.
Or because Turkey has another candidate that they believe is better? No.

Uanset hvad han siger er grunden, tror jeg at vi kan læs her for at se hvor kontroversien begyndte. Og det gør mig trist. Meget trist. I 2005 forsvarede Rasmussen Danmarks LOV af yntingsfrihed---hvilket havde ingenting at gøre med religion men i 2009 er han stadig kritiseret for det til niveauet at eneste Muslim land som er medlem af NATO ønsker de at blokere hans kandidatur.
Regardless of what he says is the reason, I believe we can read here to find out about where the controversy began. And this makes me sad. Very sad. In 2005 Rasmussen defended Denmark´s LAW of free speech---which had nothing to do with religion, but in 2009 he is still being crticized for it, to the point that the single Muslim country that is a NATO member wants to use this to block his appointment.
Jeg er ikke enig med (eller kan lidt) alting at jeg læser i de danske aviser men jeg indser at JEG BOR I DANMARK---og det er mit ansvar at forstå den danske lov fordi den danske lov var her FØR mig og vil være her EFTER mig. Jeg tror at skulle alle lande ville en leder som forsvarer landets grundlov.....uanset hvad. Og jeg har håbet at NATOs medlemlande tror den samme.
27-JA, 1-NEJ
I do not agree with (or like) everything I see in the Danish newspapers, but I realize that I LIVE IN DENMARK---and it is my responsibility to understand the Danish law because Danish law was here BEFORE me and will continue to be here AFTER me. I believe that all countries should desire to have a leader who defends its Constitution....no matter what. And I have hoped that NATO´s member countries believe the same. 27-YES, 1-NO